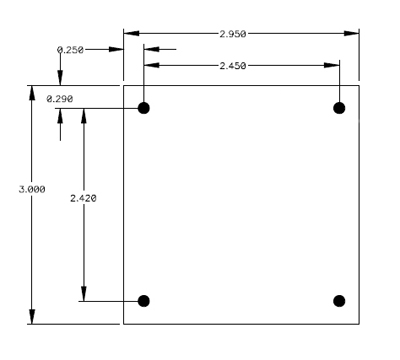 Power Driver Module
item #: ELSOSDM950


Availability: in stock - available for immediate shipment
Unit Price:
1-4 pieces:
$276.45
5-9 pieces:
$248.81
10-24 pieces:
$236.37
25-49 pieces:
$232.07
50-99 pieces:
$229.47
Prices for larger quantities may be obtained by contacting us or by clicking the RFQ below.


OEM quantities, more than 100 units or special instructions:



Quantity adjustment on next page



High Performance Pick and Hold Solenoid Driver Module is designed to avoid over heating of the solenoid coil once it is energized. It is done by applying an initial higher voltage to the solenoid coil to provide the necessary force (torque) to pull the plunger in. Then, when seated, drops the voltage down to a level sufficient enough to maintain the plunger in the seated position.

The pick time and hold voltage are variable and set using the onboard potentiometers.

This product is RoHS complaint.

| | | | | |
| --- | --- | --- | --- | --- |
| Performance Specifications | | | | |
| | | | | |
| Parameter | Min | Typical | Max | Units |
| Supply Voltage | 9 | | 50 | VDC |
| Peak Current | | | 15 | Amp |
| RMS Current | | | 4 | Amp |
| Command Range | 3 | | 50 | VDC |
| Operating Temperature | 0 | | 50 | Deg C |
| Heat Sink Temperature | 0 | | 75 | Deg C |
| Storage Temperature | -40 | | 125 | Deg C |
| PWM Frequency | | 2.0 | | KHz |
| | | | | |
| Performance Table | | | | |
| | | | | |
| Input Signal | Pick Voltage | Pick Time | Hold Voltage | Hold Time |
| Pulse, 3-50 VDC | Equal to Power Supply Voltage | Variable, Set by a Trim Pot, 0 to 2,000 mS | Variable, Set by a Trim Pot, 0 to 100% of supply voltage | Indefinite |




Quantity adjustment on next page